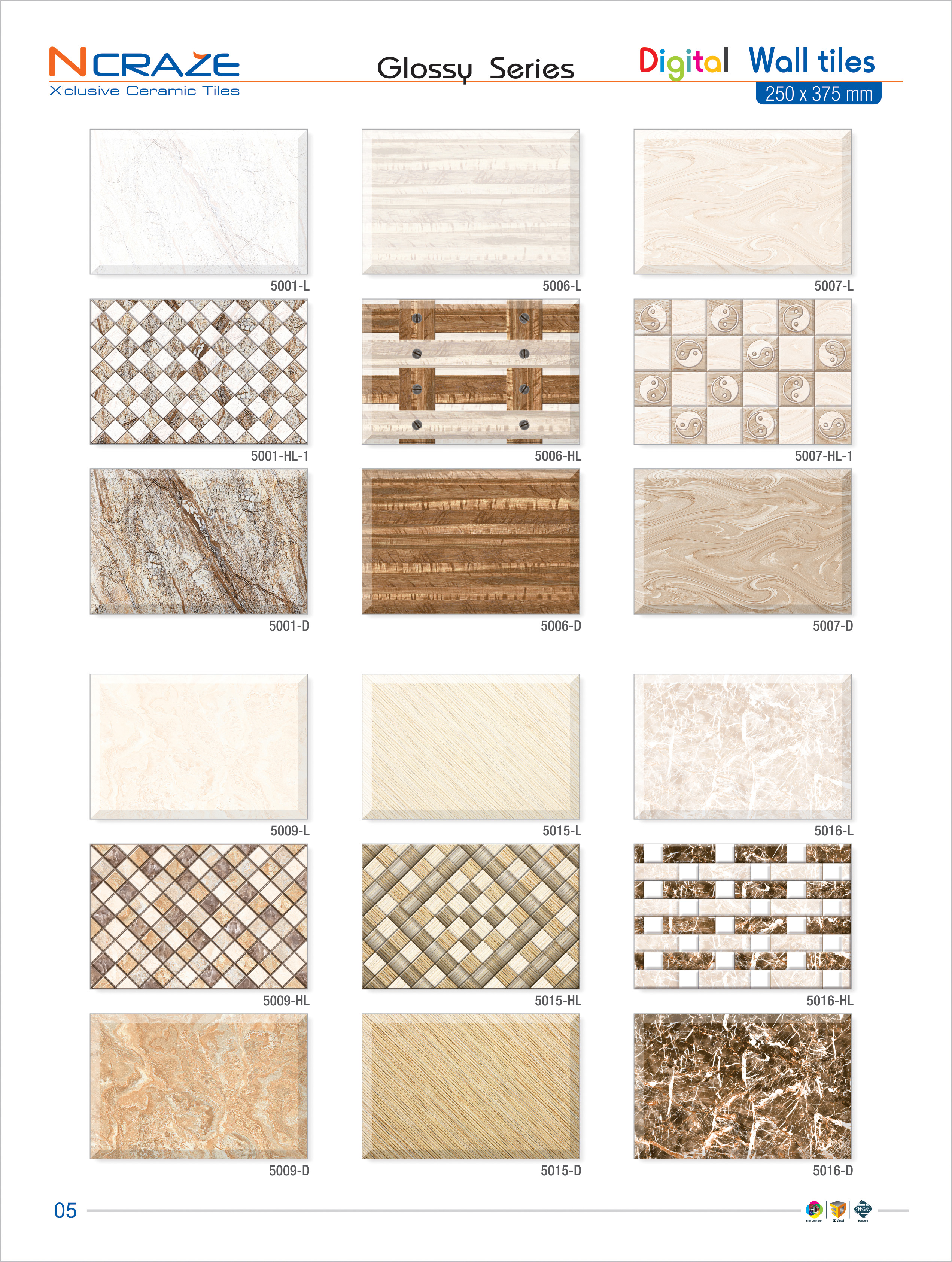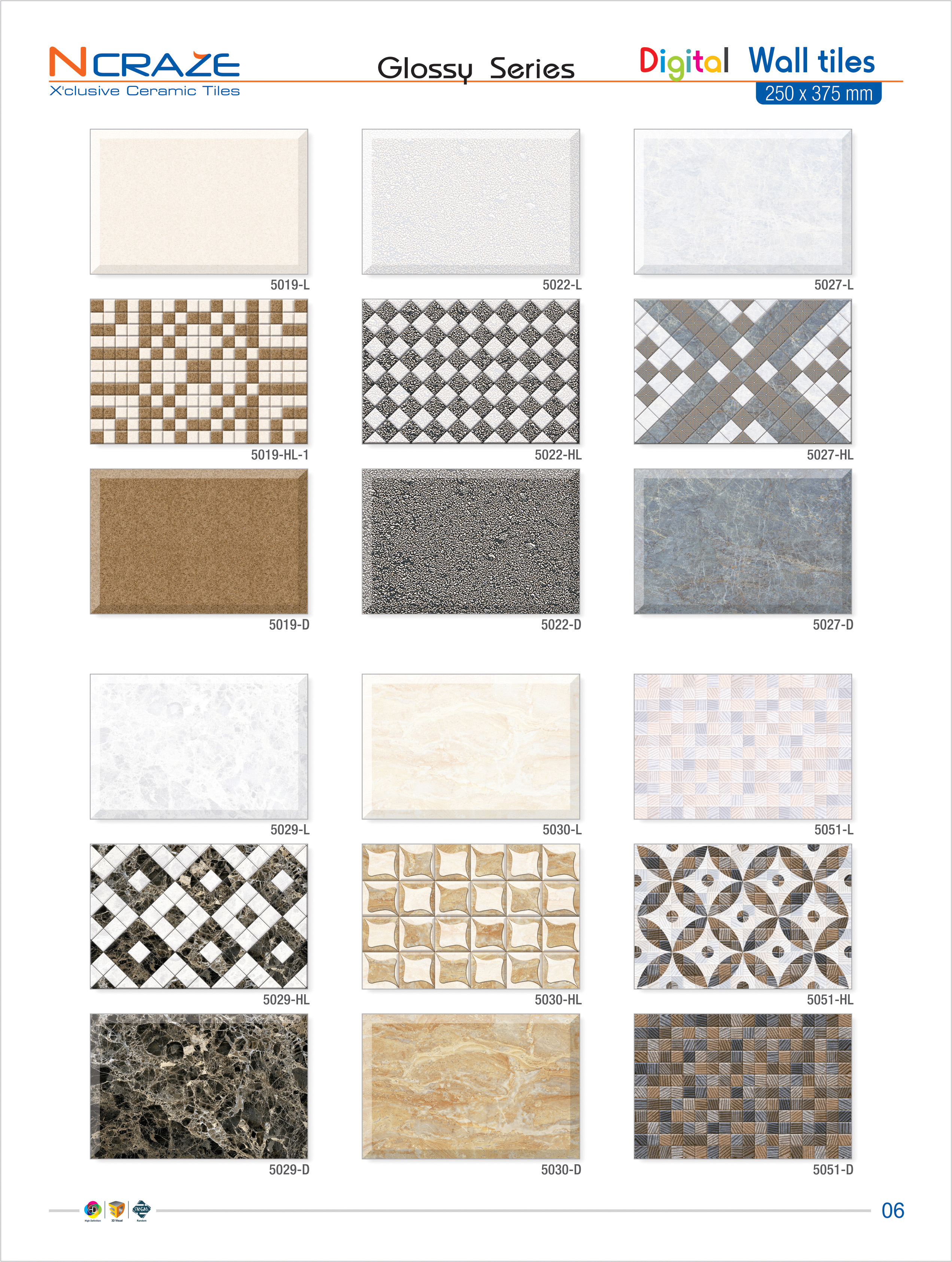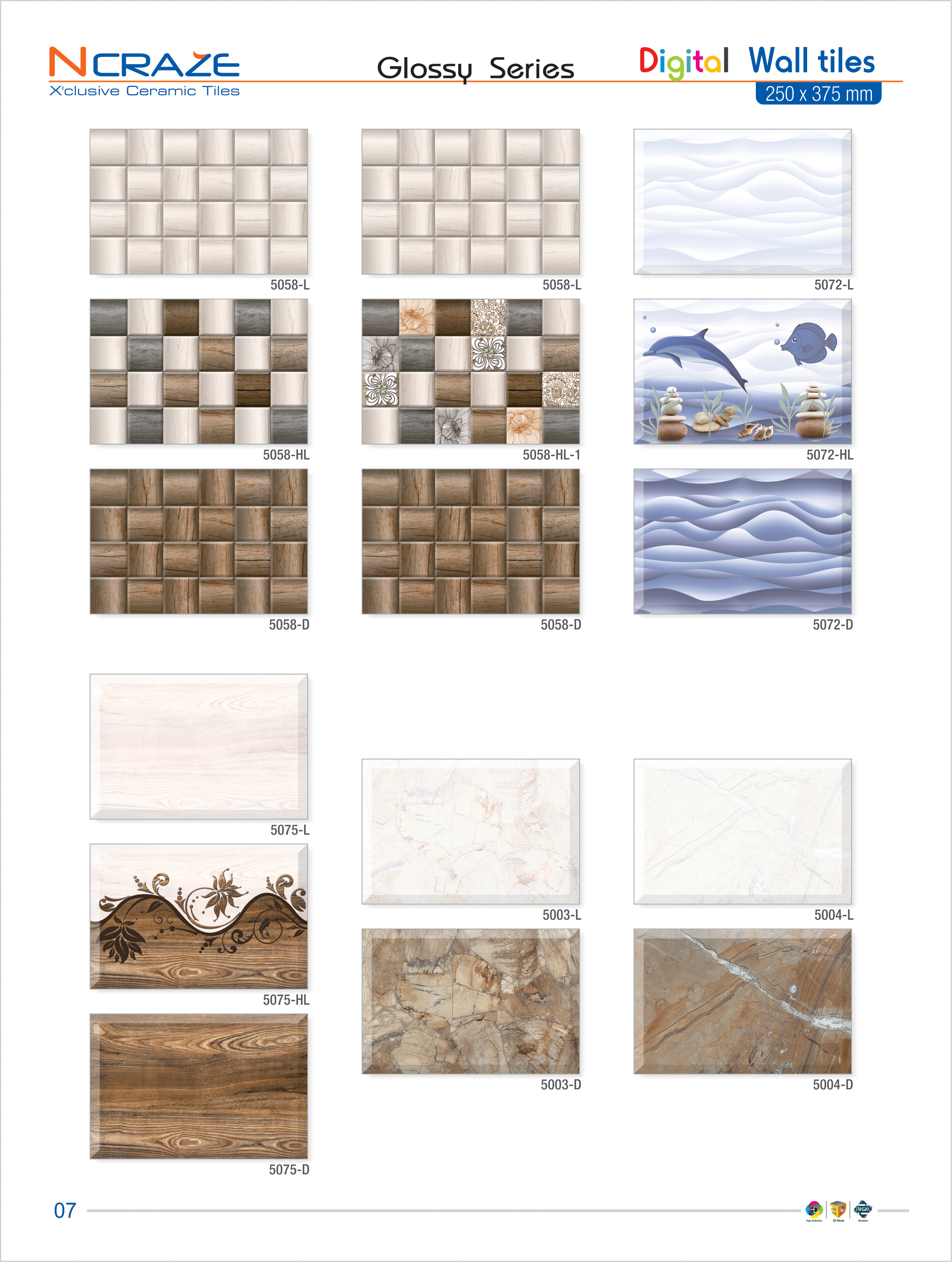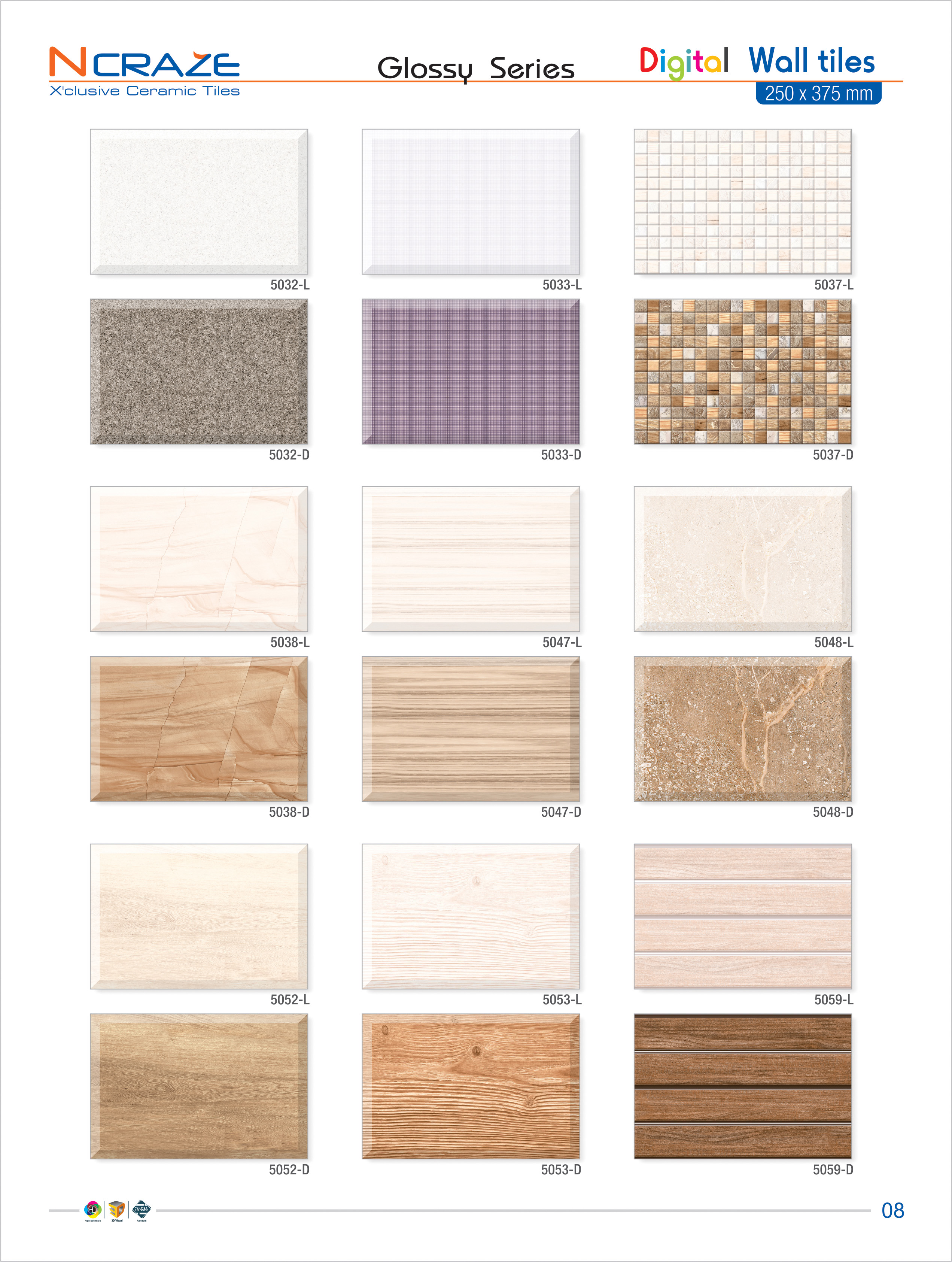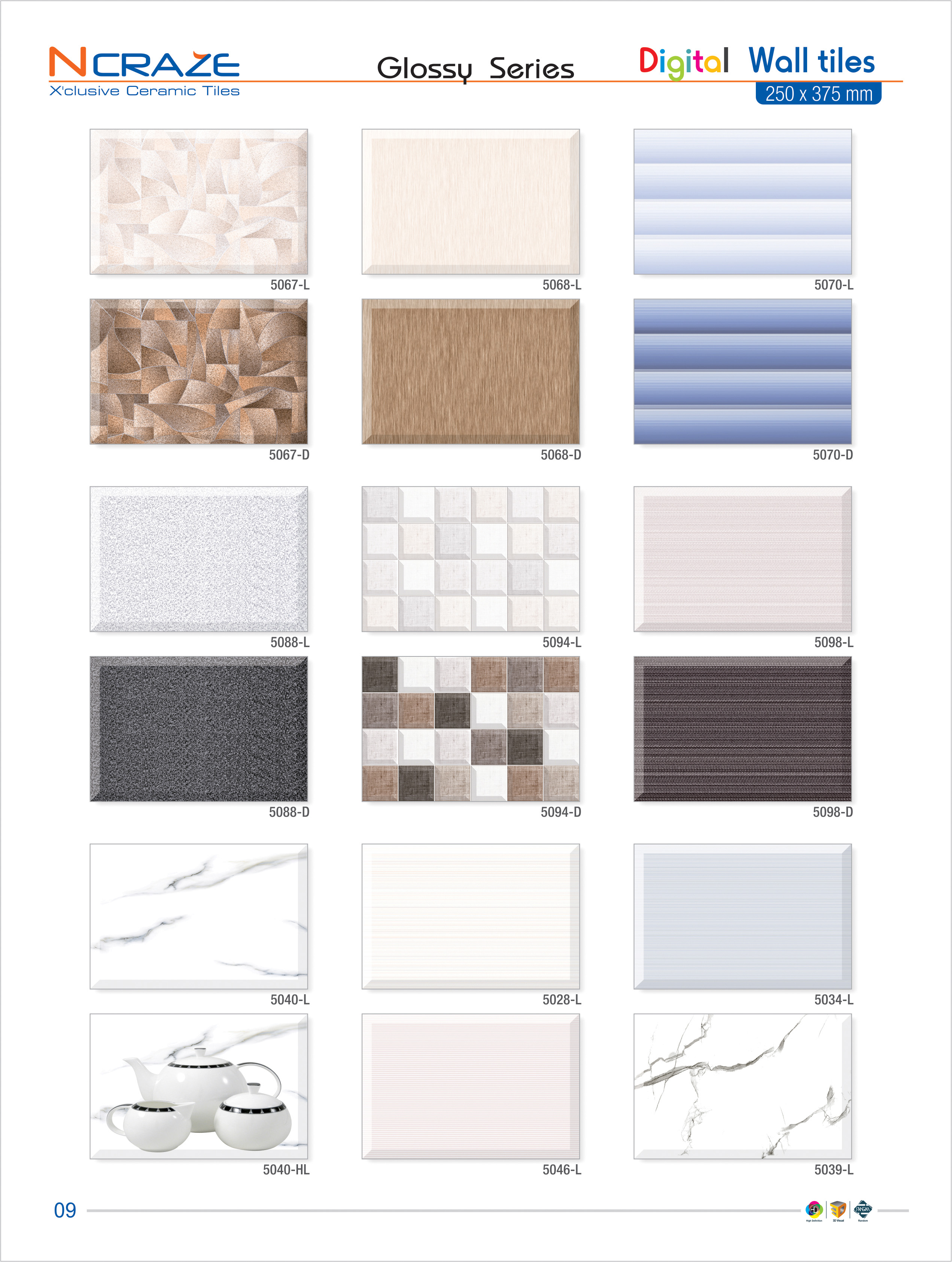 Download This E-Catalog
[button-brown]Product Details[/button-brown]
Type: Ceramic wall tiles
Place of Origin: Gujarat, India
Brand Name: NCRAZE
Thickness: 7 mm
Material: Ceramic and Natural Clay
Printing Technology: Digital Printed (Printed by Computer)
Usage: Interior, Exterior Bathroom, Wash room, Kitchen, House etc..
Function/ Features: Acid-Resistant, Antibacterial
Surface Material: Glazed Ceramic Tiles
Available in surface: Glossy,
Color Family: White, Ivory based colors
Tile Type: Wall Tiles

[button-red url="#" target="_self" position=""] Packing/ Loading Details[/button-red]
| | | | | | | |
| --- | --- | --- | --- | --- | --- | --- |
| LOADING METHOD | TILE/BOX | SQM/BOX | BOX/20′ | SQM/20′ | BOXES/PALLET | PALLET/20 |
| LOOSE | 8 | 0.75 | 3165 | 2373 | N/A | N/A |
| WOODEN PALLET | 8 | 0.75 | 3036 | 2277 | 132 | 24 |
[alert-note]Note: We are using Heavy Duty 20′ feet containers for loading tiles and Maximum weight per container is 28.5 MT, Loading quantity may be very as per importing country regulations.[/alert-note]

[button-green url="#" target="_self" position=""] Tiles fixing instruction[/button-green]
1. Before fixing, the tiles must be soaked in water about an hour, soaking of tiles is not required in case of fixing with chemical adhesive.
2. The wall surface is to be roughed plastered using mortar composed of one part of cement and three part of sand on the rough plastered surface, a coat of very thin cement slurry should be applied by brush at the time of fixing the tiles.
3. Do not use grade 53 cement for the tiles lying.
4. The mortar is to be spread on the back side of the tiles, use cement and sand mortar in the ratio of 1:2, do not use more cement otherwise it may lead to crack on the tiles, at any later date due to development of stress underneath for which company will not be responsible.
[button-brown url="#" target="_self" position=""] Technical Specifications[/button-brown]
Characteristics
Wall Tiles IS 13753/EN-159B III
Ncraze Value
Group B III
1. Deviations in Length & Width
± 0.20 %
± 0.10 %
2. Deviations in Thickness
± 4.00 %
± 4.00 %
3. Straightness of Side
± 0.15 %
± 0.10 %
4. Rectengularity
± 0.15 %
± 0.10 %
5. Surface Flatness
– Center Curvature
± 0.22 %
± 0.10 %
– Edge Curvature
± 0.22 %
± 0.10 %
– Warp Edge
± 0.22 %
± 0.15 %
6. Surface Quality
Min 95% of Tiles should be free from visible defects.
Min 95% of Tiles
Physical Properties
1. Water Absorption
> 10 %
14 to 17 %
2. Modulus of Rupture
> 150 Kg/Cm2
> 150 Kg/Cm2
3. Scratch Hardness
Min 3 Moh's
Min 3 Moh's
4. Crazing Resistance
4 Cycle Pass
4 Cycle Pass
5. Thickness
7 MM
Chemical Resistance
1. Staining Resistance
Min Class 2
Passed
2. Household Chemicals
Min Class B
Passed
3. Scratch Resistance
Min 3
Min 3